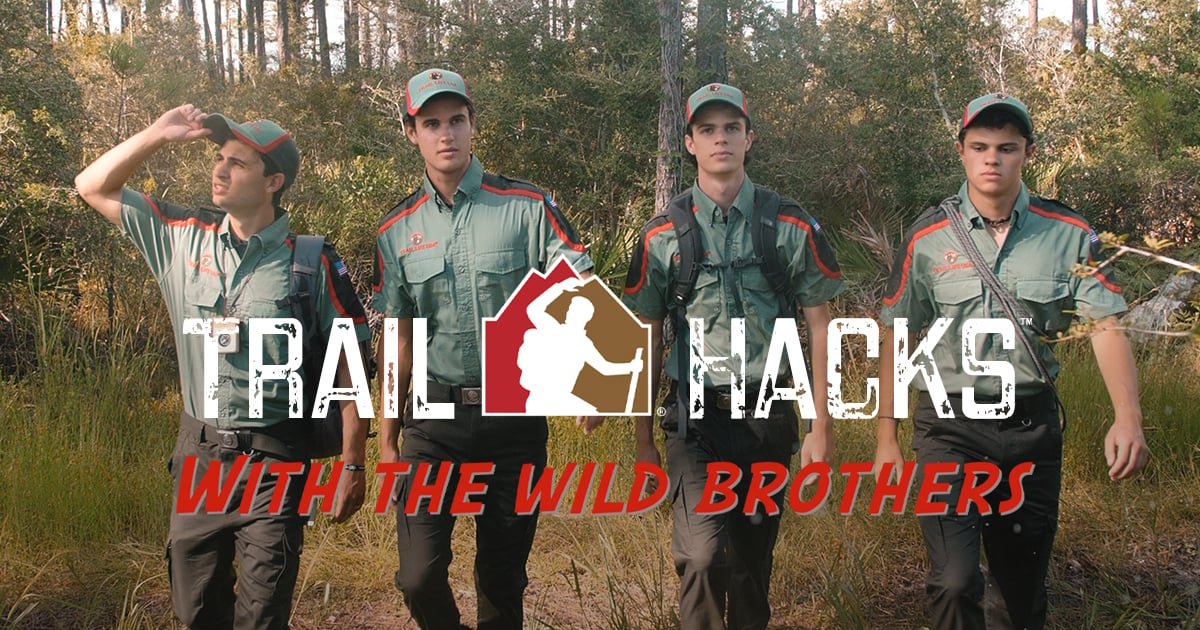 Something Powerful
Prepare for Adventure!
Learn Bushcraft, Hone Outdoor Skills, Prepare for Hiking, Canoeing, Kayaking, and Wilderness Survival Adventures with The Wild Brothers and Trail Life USA!
Tune in every other week for Wild Wednesday as the Wild Brothers share outdoor tips, skills, and Trail Hacks!
Morgan, Hudson, Kian, and Asher Wild grew up as missionaries to the Wano tribe in the jungles of Indonesia. There in the bush, the family learned from locals, made their own sling shots, hunted with a bow and arrow, met medical needs, built their own homes, and learned to survive in the wilderness and live among tribal people.
Top 10 Essentials
What are the essentials you need to pack to be prepared to thrive in the wilderness? Don't miss the first episode of Trail Hacks! The Wild Brothers share the Top 10 Essentials you need to be prepared to head into the backcountry.
Emergency Shelter


(Part 1 of the Island Survival Series)
Learn to watch for widow makers, tie a truckers hitch, stretch out a tarp with a half hitch and quickly build an emergency shelter. Don't miss this episode of Trail Hacks as the Wild Brothers build an a-frame shelter and prepare to survive on the island.
Hand-line Fishing


(Part II of the Island Survival Series)
Can you fish without a pole? Learn how to select bait fish, locate fishing holes, and catch fish using the hand-line technique. Don't miss this episode of Trail Hacks as the Wild Brothers fish for dinner while on the island.
Starting a Fire


(Part III of the Island Survival Series)
It's important to know how to start a fire in many survival situations. Learn how to safely start a one-match fire by making an all-natural fire-starter and then selecting the correct wood for the tinder, kindling, and fuel to build a fire for cooking and survival.
Cooking Fish Over a Campfire


(Part IV of the Island Survival Series)
Now that you've caught your fish for dinner, it's time to cook! Learn the proper technique in filleting and gutting fish in order to cook over the campfire.
Canoeing Basics I

Join The Wild Brothers this week as Asher demonstrates canoeing basics. Learn the J-Stroke and other techniques for efficient paddling.
How to Fit a Backpack

A good fitting backpack can make all the difference while hiking. Learn how to properly adjust your backpack before hitting the trail in this week's episode of Trail Hacks.
How to Pack a Backpack

Packing your backpack the right way can make carrying your gear easier and your hike more enjoyable. Join Morgan as he shows the basics for packing a backpack.
Don't miss out on the next Trail Hack!
Come Back Wednesday, December 14th, for a new episode!
Molding Boys
In the outdoors boys are engaged in real-world challenge, find opportunity to achieve significant accomplishment, and develop character and leadership in a hands-on manner.
Engaging Men
Through adventure, comraderie, and meaningful service, men discover how to make a difference as they nurture spiritual growth, teach life lessons, and mold boys in their community to become bold, courageous, godly men.